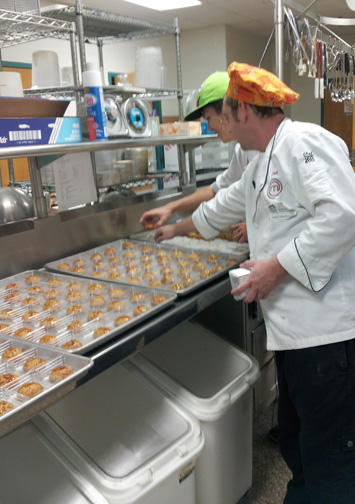 Pumpkin, pumpkin, pumpkin.  It's not just for pie.  These delicious cookies are rather decadent…chewy, moist, and exploding with pungent ginger flavor.  I recently baked hundreds of these with Michael Chen from MasterChef Season 3 for a third grade class at a local middle school during an assembly about seasonal cooking.  You might think kids would be cautious about a pumpkin cookie that's spicy with intense ginger flavor…they went absolutely crazy for them.
2 3/4 cups all purpose flour
1/2 tsp baking powder
1/2 tsp salt
1 Tbsp ground ginger
1 Tbsp cinnamon
1 Tbsp cardamom
Mix these together thoroughly in a large bowl.  Then, in the bowl of your stand mixer, cream together:
1 cup brown sugar
1/2 cup butter
When the mixture is light and fluffy, add:
1 egg
When the egg is thoroughly incorporated, add:
1/4 cup molasses
1/4 cup pumpkin puree (canned is fine, or make your own by slicing a pumpkin in half, placing both halves cut side down on a baking sheet, and baking at 350F until it's soft.  [You can also microwave it until soft.]  Let it cool fully and blend in a food processor or blender until smooth.)
1 tsp vanilla
1 Tbsp freshly grated ginger root
1/4 cup chopped candied ginger (expensive at the store in the spice rack…recipe located here)
Thoroughly blend.  Then lower the speed of the mixer and add the dry ingredients, a bit at a time, until completely mixed.  At this point, you have 2 options for making these into cookies.  You can just spoon directly onto a baking sheet lined with parchment (I use a small ice cream scoop with the squeezable handle that gives me perfectly formed, even cookies) and bake them, or you can divide the dough in half, wrap each half in plastic wrap, and chill in the fridge for 2 hours.  Then roll them out 1/4″ thick on a floured surface and cut into gingerbread men or any shape you like, then carefully transfer to a parchment lined sheet and bake.
Bake these cookies in a preheated 375F oven.  Flat gingerbread men-type cookies will be done in about 8 minutes…the longer you bake them, the crispier they will be.  If you make these into drop-style cookies, they will take anywhere from 10-15 minutes to bake, depending on their size.  Let them cool fully.
OPTIONAL BUTTERMILK CARAMEL GLAZE
In a saucepan, combine:
1 cup brown sugar
1/2 cup unsalted butter (1 stick)
1/2 cup buttermilk
1 Tbsp honey
1 tsp baking soda
Bring to a boil over high heat, then reduce the heat to medium and boil until the color changes to a caramel color, about 3-5 minutes, stirring constantly.  The caramel will foam up while boiling, so stir and blow on it gently to keep it from boiling over.  Remove from the heat and add:
1 teaspoon vanilla
Stir completely and allow to cool for a few minutes, during which time the glaze will thicken slightly.  Then spoon over the cookies.