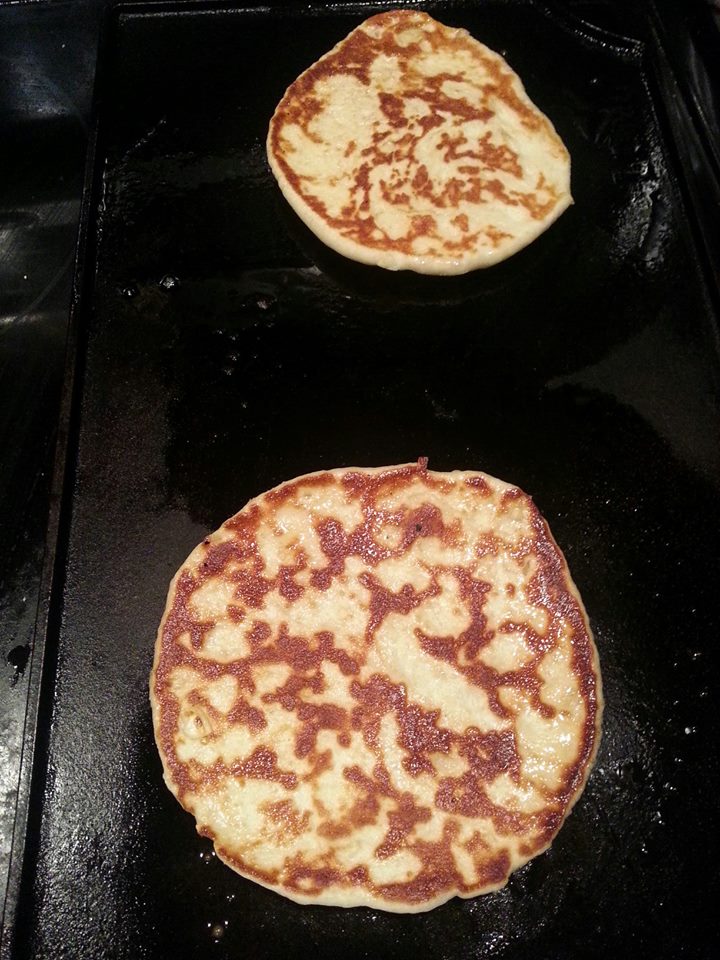 Everyone loves flatbreads, from pitas to naan to foccacia, to the spongy fermented teff bread of Ethiopia: injera.  Naan is the staple flatbread in India, and there are as many ways to make it as there are cooks.  Naan is quick and easy to make, and for you guys who limit yourselves to the grill out back, it can be baked right on the grill while you poke around your steaks and sausages, and what a way to impress the family by bringing in homemade bread that you baked on the grill?
This recipe makes 12-16 naan breads depending on size.
To get started, take a large liquid measuring up (at least 2 cups) and combine:
1 cup water (preferably filtered)
1/4 cup buttermilk (or substitute regular milk)
Microwave in 15 second intervals until the mixture is warm to the touch, but not scalding.  Add:
1 pkg active dry yeast (or 2 1/2 tsp)
1 Tablespoon sugar
Stir until dissolved, then let it sit for 10-15 minutes until foamy.  In a separate bowl, whisk together:
2 Tablespoons sugar
1 egg, lightly beaten
1/4 cup melted butter
When the yeast is foamy, combine both sets of wet ingredients and whisk.  In a large bowl, or the bowl of your stand mixer, combine:
4 cups bread flour
1 generous Tablespoon kosher salt
6 cloves garlic, chopped
Add the wet to the dry and stir until combined.  Then turn the dough out onto a generously floured surface and knead it for 8-10 minutes until it's smooth.  (Or knead in the stand mixer.)  You may need to incorporate up to 1/2 cup of additional flour.  The dough should be moist and sticky, which is why it's easier to let the stand mixer do it for you.  It's okay for the very bottom of the dough ball to be stuck to the mixer bowl, but if it's any stickier than that, add a bit more flour.  After the dough is nice and smooth, gently remove it from the bowl, spray the bowl with oil, and return the dough.  Cover with plastic wrap, and let it rise in a warm place (ie oven with the light turned on inside) until double, about 1 hour.
Gently press your fingers into the dough to deflate it.  Then pull off little chunks of dough and roll them into balls between your palms…about the size of a golf ball.  Place them on a sprayed baking sheet and cover with plastic wrap.  Once the dough is all balled out, preheat your cooking method.  This can be an upside down baking sheet or ceramic or quarry tiles in your oven at 400F.  It can be your charcoal or propane grill outside.  It could be your Big Green Egg or your wood fired bread oven (the most traditional).  Or it can just be a griddle on your stovetop.  I use The Lodge cast iron double sided grill/griddle most of the time.  If cooking on the stovetop, you want moderate heat, a griddle surface temp of around 325F is perfect.  (I have a non-contact infrared thermometer that I use all the time in my kitchen, I can't live without it.)
Flatten a ball of dough.  You can do this with a rolling pin, with your hands, or in a tortilla press.  Lightly brush the griddle or grill surface with butter.  (If baking on a masonry surface like clay or tiles, you don't need to do this.)  Place the disc of dough on the cooking surface.  It will begin to bubble up and rise.  Flip it when it's golden brown on the bottom, or if you're baking on a grill over high heat, when there are charred black bubbles forming on the bottom.
The second side will take less time than the first.  If you are grilling these babies, keep a bowl of melted butter and a brush handy, and brush the cooked surfaces of the bread before placing them in a big bowl covered with a towel to hold in the warmth.
I recommend eating these with paneer (fresh cheese) or that Middle Eastern delicacy, lebni, with olive oil and black pepper.  Absolutely divine!