It's MasterChef season YET AGAIN, and traffic to my blog has skyrocketed, as usual.  I'm getting lots of requests for recaps of this season, so I figured I would update and repost my "MasterChef Farewell" blog, so that folks understand why I'm not watching the show any longer, and why I'm trying to disassociate myself with the brand.
The MasterChef brand is growing like crazy in this country, and the majority of this season's viewers probably don't have a clue who I am.  I appeared on Season 2 of the series, back when it still resembled something of a cooking competition that celebrated food and teamwork.  I had an amazing MasterChef experience.  The people I met, both my fellow competitors and those involved in production, are incredibly dear to me and have become inseparable and indispensable in my life.  The incredible Jennie Kelley, with whom I run the highest Yelp-rated restaurant in the state of Texas, FRANK.  The untouchable Adrien Nieto, who's spending the summer with me opening restaurants in Dallas, and with whom I've tromped thousands of miles across the country over the past few years.  The freak genius Alvin Schultz, who may be the most skilled and brilliant chef in Houston, though he reserves his skills for only a few very lucky individuals.  And that's just the start.  Christian Collins, Tracy Kontos, Jennifer Behm (all of whom have been to Hawaii with me to support homeless youth there), my sweet little peanut Esther Kang, and the inventive and delightful Michael Chen, from season 3, with whom I've had the pleasure of sharing many culinary adventures.  This is barely scratching the surface, there are SO many others.  But suffice it to say that MasterChef was an overwhelmingly positive experience for ME, I couldn't be happier with how I placed, how I was portrayed, and for the legions of amazing fans from around the world who found me through the show, and continue to maintain an inspirational dialogue with me via Facebook, Twitter, and here on my site.
But MasterChef has changed since Seasons 1 and 2.  Dramatically.  And during Seasons 3 and 4, I found myself swept up in this culture of hatred toward certain contestants for the way they were portrayed on the show…the "villains"…and I spent an inordinate amount of time defending people I didn't even know, because I knew the truth about how reality TV is shot and edited, MasterChef being my THIRD reality TV show.
MasterChef is entertainment.  First and foremost.  It is not real.  It is not a competition.  It is a highly engineered fiction…like most reality TV shows…designed to keep you watching from episode to episode.  And for the vast majority of the TV watching public, it does just that.  MasterChef's story producers are brilliant.  They coax exactly what they need out of the contestants.  They string it together masterfully in the editing room.  And what comes out is a fiction as gripping as any episode of…well…whatever TV show everyone likes these days.  (Forgive me…I'm ignorant of such things because I don't watch much TV at all.)  So I don't blame ANYONE for getting caught up in MasterChef, or any other reality TV show, for that matter.
I continued to watch and blog about MasterChef after my season for 2 reasons:
The first is selfish.  Traffic to my website.  During MasterChef season, I get 4,000-5,000 daily readers on my site, sometimes as many as 15,000.  That's really…really good.  In April when no one remembers who Gordon Ramsay is, I get excited when I hit 2,000 readers in a day.  So when I blog about MasterChef, people come to my site.  And, evil wizard that I am, I try to snag those folks and get them interested in subjects that I'm actually passionate about.  Like COOKING.  And travel.  And agriculture.  And being nice to your fellow man.
The second reason is selfless…though newcomers to my blog may not understand this.  They interpret my ravings as the bitterness of someone who didn't win MasterChef.  (New Flash: Winning MasterChef is about the worst thing that can EVER happen to you.  Ask ANY of the people who've won MasterChef, they will all tell you the same thing, from Whitney Miller to Luca Manfe, and everyone in between.)  But as I mentioned before, I could not have WISHED for a more perfect MasterChef experience for myself.  I wouldn't have changed a single thing about how my MasterChef experience played out.  Not one thing.
But I also witnessed the ugly side of reality TV…how the audience treats those who are edited as villains.
It just so happened that the worst villain on my season turned out to be one of my closest friends.  A man who I'd give my left nut for.  A man of integrity and honesty…an amazing father and husband…someone I will call a dear friend for the rest of my life.  And everyone in this country wanted his head on a pike because of the way he was edited on the show.  People were screaming for his kids to be taken away from him by child protective services.  People were sending him death threats.  Of course…none of these people actually knew him.  They were making character judgements based on how he was edited by crafty story producers.
So the second reason I decided to continue watching and blogging about MasterChef was to defend the villains…those people who get edited into characters that we love to hate.  They're always present in the scripted, fictional shows we're accustomed to watching.  So they HAVE to be present in the reality shows, of course.  In the contract you sign to be on MasterChef, or any reality TV show for that matter, there is a specific clause where you give the show's producers the right to deliberately misrepresent your character to the audience, even if it causes hatred of the general public towards you.  You sign away that right before you even get cast.  For those who would be interested in the exact syntax, here it is:
"The rights granted to Producer also include, but are not limited to, the rights to edit, cut, rearrange, adapt, dub, revise, modify, fictionalize, or otherwise alter the Material, and I waive the exercise of any 'moral rights.'
I understand that my appearance, depiction, and portrayal in connection with the series may be disparaging, defamatory, embarrassing, or of an otherwise unfavorable nature, may expose me to public ridicule, humiliation, or condemnation, and may portray me in a false light."
I have been truly shocked, and deeply offended, to watch how the American public reacts to MasterChef "villains."  Christian.  Ryan.  Krissi.  There's always a villain.  And, in my personal experience, these villains are actually the most delightful, genuine, trustworthy people in real life.  But the country wants their head on a pike.  They want their children torn from them.  They want these horrible racist bullies to be crucified on national TV for their viewing pleasure…and I just can't figure it out.  So my MasterChef blog has had one, and only one, noble reason for existing for the past 2 years…to try to bring a bit of humanity to the villain, and convince those bloodthirsty vigilantes to THINK before they get on social media to heap hate upon someone they've never met.
Folks…my point is, until you know someone inside and out…you're in no position to make a judgement call on their character.  And if you're making that judgement based on what you've watched on reality TV, you have NO grip on reality.  There is NOTHING real about reality TV.  Comments you see a contestant make are often pieced together from sound byte tangents recorded throughout the entire season.  They're REALLY good at that.  They even did it to me…strung together a sentence from 3 separate sound bytes scattered from my interviews at various points during filming.  I never said what aired on TV.  They created it out of thin air.
If you're watching this season, here's an exercise for you.  Start noting what clothes the contestants wear (under their aprons) during EVERY pressure test.  Do they look familiar?  Like…the same clothes as they wore in last week's pressure test?  And the week before?  This is so that they can cut and paste ANY comment made in an interview and paste it anywhere in the entire season they like, taking it completely out of context, and turning it into something else.  In ANY reality TV show, you, the audience, are being played like a fiddle by the producers.  What you see on your screen is NOT how things played out in real life.  It is an elaborately constructed fiction.
So if you like watching MasterChef…that's great.  Watch it.  Enjoy it.  Be entertained by it.  Maybe they'll even let something educational through and you'll learn a few tricks.  But don't start thinking that it's real.  And CERTAINLY don't start thinking that you're in a place to judge a contestant's humanity based on what you see on your TV screen.  Those people are NOTHING like how they are portrayed…myself included.  Heck, the vast majority of my fan base would run screaming for the hills if they knew what I was REALLY like!
Let's have some empathy.  Let's have some humanity.  Let's give people the benefit of the doubt.  Let's stop thirsting for people's blood who we don't know.  Krissi Biassielo?  Paula Deen?  Edward Snowden?  Barack Obama?  George W. Bush?  You disavow your humanity the instant you pass judgement on a human being you don't know intimately.
There's now a growing dark side to MasterChef, and to reality TV in general, which is why I have now finally disavowed the show.  The producers have gone to great lengths to squelch the gossip mills surrounding the suicide of season 3 runner-up Josh Marks, for whom the show was the catalyst for a mental illness that resulted in his tragic and horrific death.  Do I believe MasterChef is specifically to blame for his suicide?  Of course not.  But I do believe there is a very strong disconnect between what the producers believe they are doing when they create the show, and the impact their actions have on both the contestants, and the audience.
One Potato, Two Potato and Shine America create MasterChef.  OPTP is Gordon Ramsay's production company, a very small outfit that, due to Gordon's prowess, has a disproportionately large creative input on the show.  Shine is a Hollywood powerhouse with massive resources that produces many shows, including The Biggest Loser.  They are in the business of selling TV.  Their job is to make a show that grips you, and holds you until the finale.  I know these producers.  They are people that I consider friends, whom I respect for their talent and ambition and indefatigable creativeness and spirit.  But in the process of creating reality TV, they make a much larger impact on the lives of the contestants than they may realize.  Each season, many many contestants return home suicidal, feeling used, some even reporting sexual harassment and abuse.  Some contestants are cast deliberately to be made fun of (though I believe this season they may have done away with the ridiculing of top-100 contestants, and for that, I am impressed and thankful.)
Contestants are subject to deliberate, intentional stress in order to trigger a high emotional response to situations.  They are kept sequestered, locked in a hotel room and can't leave without an escort, unable to communicate with spouses, children, or parents for weeks at a time.  On some seasons, contestants would be awakened in the middle of the night, ordered to pack up their room, and moved to a different room in a different hotel.  (No easy matter when you have to pack enough clothes for 2 months of filming.)  All this to create frustration, sleep deprivation, and confusion as to where other contestants are being housed.  On seasons subsequent to mine, contestants were plied with alcohol to loosen their tongues and feel more confident saying things that personal decorum might otherwise prevent them from saying while sober.  And all the while, producers (rather than the judges) make the decisions about who gets eliminated and who stays, who has a bad dish and who has a good one, based solely around the story line they are crafting, rather than strictly on individual performance.  (You can't taste the food on the screen, so if a judge is told to say "it may look good, but it's dramatically over-salted," is he telling the truth?)  I'm always amused when people discover that the judges aren't actually the ones making the decisions about who wins and who gets eliminated, but most reality TV shows are structured this way, and there's usually a small-print disclaimer in the credits stating so.  Heck, even on American Idol there used to be a small print disclaimer that said, "Producers have final authority over judging and voting results," meaning that no matter what the country actually votes, the producers can change them if they so desire.  (I haven't watch it in years, so I'm not sure if it's still there.)  But even the JUDGES on the show are simply hired actors, they do what the producers tell them, they don't have an actual say over who wins or gets eliminated.  Often their critiques are honest and straightforward.  But not always!  So contestants begin to doubt their skill…or worse yet, be over-confident in their skill.
The emotional tension and self doubt gets worse the farther a contestant progresses, all the way to the final round.  And anyone who has even minimal knowledge of cooking, who has watched every season finale, knows that David out-cooked Whitney, Adrien out-cooked Jennifer, Josh out-cooked Christine, and Natasha out-cooked Luca…though in EVERY instance, the less-skilled cook won the title because of marketability.  I also believe that most, if not all of the winners will agree, if they're being honest with themselves, but they understand that reality TV is not a competition…it's a marketing game.  I poignantly remember Christine Ha's blog about her self doubts in her victory, as a vocal minority were screaming that she had been set up to win before the show was even cast.  Christine has become a dear friend of mine, and I have watched her do incredible good with her title.  But even she will be the first to admit that MasterChef is not a cooking competition..it's a carefully engineered fiction.
But the negative impacts on the contestants are limited to 100 people a year.  Well, a few more that progress through the audition process but ultimately aren't cast.  But still, we're talking hundreds, maybe thousands.  The show has a far larger audience, and it's impacts on the audience are what truly trouble me.
Ask any MasterChef producer or casting agent, and they'll tell you that the show is a competition, produced so that people can challenge themselves, and so that the audience can be entertained.  It's fun to watch.  And that's pretty much the end of it.
Case in point…a few months ago I was approached by the casting agent who put me on MasterChef.  She messaged me on Facebook to ask if I was still working in food.  (A 30-second glance at my page would have answered that question.)  She was casting for the show Cutthroat Kitchen on Food Network…a series hosted by Alton Brown where contestants are given a budget to work with, and they can either use the money for ingredients, or to sabotage their fellow contestants by "buying away" their equipment and such.  While Alton Brown is probably the most potent inspirational TV icon in my life, I was very disappointed in his decision to host the show, because it's yet another example of celebrating humans stooping to their lowest levels…striving to win by ANY means, including deliberately sabotaging someone else.  I mentioned this in "so many words" to the casting agent: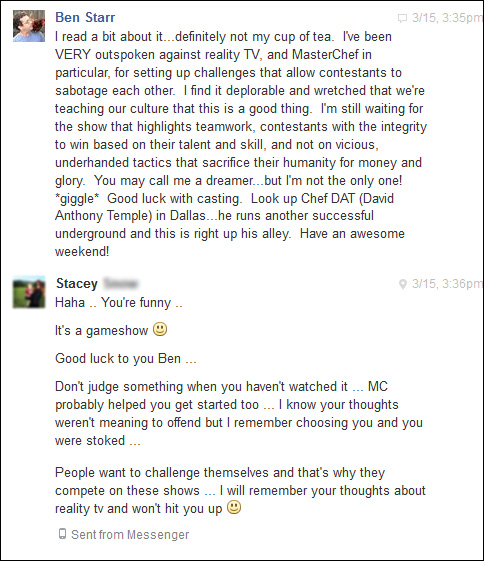 My words may have been a bit strong, true.  But this is an issue I'm incredibly passionate about and upset with.  This agent really believes all of this TV stuff is fun and frivolous…simply entertainment for the audience and educational and challenging for the competitors.  But when an entire generation of kids grows up watching people sabotage each other to get ahead, on reality show after reality show…what is this teaching them?  When they come to a point in their life when they could make a choice to get ahead at another person's expense, what will they choose, having grown up with example after example of people compromising their integrity and intentionally hurting others for personal gain?
Stacey's response was pretty polite, particularly at the end…but then she did something unexpected.  She blocked me.  And unfriended me.  A stark example of the kind of behavior that is sought after by reality TV producers, and prominently exhibited on screen when it happens.
About a year ago when I was very publicly criticizing MasterChef for their choice to focus on contestant strife and hatred, rather than on food, one of the show's executive producers, Adeline, contacted me and said, "Robin (another exec producer) and I don't want you to think that we're evil."  I assured her that I did not.  But I do believe they go about their work without full perspective on how they are contributing to a larger body of work that will, most certainly, have a very deep and broad impact on our culture.  Do I think MasterChef is single handedly making American a bad place?  Of course not.  But the current trend of reality TV absolutely, decidedly, affirmatively does.  I don't think ANYONE will argue against that.  There are, of course, noteworthy exceptions…shows the celebrate the human spirit, and endeavor to bring us all closer and inspire empathy and generosity.  But the vast majority of them do not.  They thrive in bringing out the worst behavior in people, and prominently exhibiting it for all of us to witness.  And that's just not good.
Yes, I have stopped watching MasterChef.  For good.  It's no longer a show about cooking.  And I can't continue defining myself based on a show that glorifies rivalry over creativity.  That highlights strategic conniving over how to poach an egg.  YES…MasterChef does good for the world.  As I've said a million times, it brought me dear, dear friends and a trove of amazing fans from around the world who are passionate about food, cooking, and living an amazing life.  I think there are very few MasterChef survivors who would tell you their experience was 100% negative.  Watching MasterChef causes the occasional audience member to think twice about their food choices, despite the omnipresent WalMart endorsement.  It encourages people to get in the kitchen instead of driving through the fast food window.  It brings some folks genuine joy…and there's no reason they shouldn't watch.
But the simple fact is, I just don't have time to watch a show that is completely manufactured, manipulated, and edited to the point that it's no longer about food.  I have chickens to feed.  I have bread to bake.  I have wine to ferment.  I have books to read.  I have people to cook for.  I have friends, family, and fans to share my life with.
And this next statement goes for ALL TV, not just MasterChef:  the next time you sit down and turn on the television…are you making your life better?  If not…could you be doing something else to make your life better?  TV is powerful.  It has incredible potential for good.  But each time you turn on that TV, you send a clear-cut, noticed and tracked digital signal that is equivalent to a vote.  Use that vote for good.  Watch TV that makes you a better person.  Watch TV that teaches you things you don't know.  Watch TV that broadens your mind and challenges you.  Watch TV that brings you laughter and joy.  And if the TV show you're watching doesn't do that…there are plenty of things you can do that WILL if you'll turn that TV off.
Thanks for taking this amazing journey with me.  There will be no further blogs about MasterChef.  I may continue to feature "Where Are They Now" blogs about former contestants, because I love sharing stories about people taking risks to pursue their life's dream.  I will continue to privately encourage and candidly discuss the MasterChef experience with those who are eager to be on the show, as I always have.  But I've gotta shrug this MasterChef elephant off my shoulder so that I can do better for you, for those I love, and for myself.
All of life is ahead, and we can make of it anything we want.  Let's not waste it!  Let's dive right in.